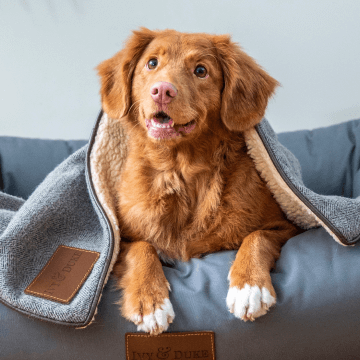 We are glad to have your pet boarding with us in our veterinary-supervised Tampa pet boarding facility! (S)he is in capable and caring hands!
All pets will enjoy frequent contact with the veterinary hospital staff, including daily outdoor time for our canine boarders.
Feeding will be done according to the schedule your pet is used to. You may bring in your pet's own food, or we can supply regular food or Hill's Prescription Diet ® (**extra charge applies for kennel wet food or Prescription Diet**).
We will also handle any medication regime your pet may need during their stay with us. There is a $5 medication charge for pills,liquids or topicals given on a daily basis. If your pet requires injectable medication(insulin) a $10 medication charge will be applied daily.
At boarding drop-off and before going home, one of our staff will evaluate your pet and notify a doctor if there are any issues requiring attention.
Our facility is climate controlled, safe, and clean, and the backyard is perfect for outdoor fun! Feel free to bring a few toys and/or bedding from home.
PET BOARDING DROP-OFF HOURS
Monday through Friday from 7:30 am until 5:00 pm
Saturday drop-off is from 7:30 am until 11:30 am
PET BOARDING PICK-UP HOURS
Monday through Friday 8:30 am through 5:30 pm (After 4 pm if a bath is requested)
Saturday from 8:30 am until noon.
REQUIREMENTS FOR OUR BOARDING GUESTS (and BATH drop-offs)
** Proof of up-to-date vaccinations is required at the time of your pet's stay.
Dog: Bordetella, Rabies, DA2PPV, Leptospirosis, as well as a negative fecal test yearly.
Cat: Rabies and FVRCP vaccines.
** All pets must be current on heartworm, intestinal parasite, and flea prevention.
NOTE: When vaccination is recommended, dogs and cats intended to be housed in boarding kennels or day-care facilities should BEGIN the initial vaccination series 4 wk prior to entry (2 wk between the initial vaccines plus 2 wk to allow time for a humoral immune response to develop).
FORMS REQUIRED FOR BOARDING IN OUR FACILITY
You may submit your Boarding Request online, by texting BOARDING to 813-839-6191 or by phone at 813-839-6191. We will contact you by email, text, or phone to ask you a few questions regarding your pet and to receive instructions.
Please allow 10 minutes at drop-off time to go over the information/instructions you provided and to sign the Boarding Release Form.